This section provides an overview for bellows as well as their applications and principles. Also, please take a look at the list of 43 bellow manufacturers and their company rankings. Here are the top-ranked bellow companies as of June, 2023: 1.Bellows Systems, Inc..
What Is a Bellow?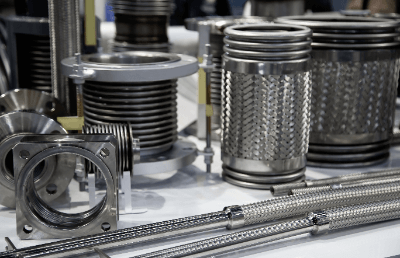 A bellows is an object or device with two or more sides to allow it to expand and contract.
Bellows, as camera parts, are made of black cloth or paper and have been used mainly as a focusing device for close-up photography.
Metal bellows are mainly used in joints, as they are elastic and bendable metal pipes adjustable in length and position.
Bellows are widely used in high vacuum piping, compressor piping, liquid nitrogen circulation systems, etc. because they also maintain a high degree of air tightness.
Uses of Bellows
Bellows as camera parts have long been used as focusing devices for close-up photography but are now rarely used due to advances in auto-focusing mechanisms.
Bellows as metal piping is used as a high-performance piping joint that can be adjustable in length and alignment because of its elasticity, flexibility, and high air tightness.
They are used in a wide range of applications, including
High vacuum systems in nuclear fusion and synchrotron radiation facilities

Liquid nitrogen circulation system for superconductivity

Control valves for compressors

Accumulators for electronically controlled brake systems
Principle of Bellows
Bellows as camera components consist of thick, light-blocking black cloth or paper mounted on a lace, which expands and contracts precisely.
There are two main types of bellows as metal piping: formed bellows and welded bellows.
Formed bellows are made by pressure-forming metal pipes. They are inexpensive, can be mass-produced, and are suitable for areas where large elasticity is not required.
Welded bellows are made by stacking metal washers and welding the inner and outer edges of the upper and lower washers one after the other. They are capable of precise processing with large elasticity and excellent pressure resistance, but they are expensive and unsuitable for mass production.
Various alloys are used as materials, including aluminum, titanium, and stainless steel, with differences in elasticity, pressure resistance, bending resistance, and durability.
Bellows of various sizes with different bore diameters and wall thicknesses are available. It is necessary to select and use the one that matches the application in combination with the material and performance.
*Including some distributors, etc.
*Including some distributors, etc.