This section provides an overview for industrial scales as well as their applications and principles. Also, please take a look at the list of 48 industrial scale manufacturers and their company rankings.
What is an Industrial Scale?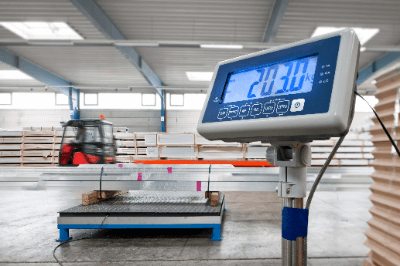 An industrial scale is a weighing instrument used to accurately measure the weight of objects in various industries. There is a wide range of weights that can be weighed, from grams to tons, and many types of scales are available, including bench scales, types that can be used for suspension work, and floor scales, which are embedded in the floor.
Various specifications are available depending on the characteristics of the item to be weighed and the measurement environment, such as dustproof specifications for weighing powders, waterproof specifications for weighing liquids, and explosion-proof specifications for weighing in hazardous locations such as where explosive gas is generated.
Industrial Scale Applications
Industrial scales with appropriate specifications are used depending on the industry and purpose of measurement, such as when measuring minute weights with high precision and when measuring heavy objects that do not require high precision.
In recent years, industrial scales have come to be used not only for weighing but also in a series of automated manufacturing processes, such as automatic filling of liquids and powders, filling volume inspection, batch processing, weighing, blending, and dispensing. Industrial scales are used in various fields, including the pharmaceutical, cosmetics, chemical, and food industries.
Principle of Industrial Scales
While there are spring scales based on Hooke's law and balances based on the principle of leverage, industrial scales are mainly based on the electromagnetic, load cell, and tuning fork measuring principles.
1. Electromagnetic Industrial Scales
The internal structure is similar to that of a balance, with a sample placed on one side of the pole and an electromagnetic coil placed on the opposite side of the pole across the fulcrum. The electromagnetic force required to maintain equilibrium with the weight of the sample is measured, and the electromagnetic force is converted to weight to determine the weight. High-precision measurement is possible, and it is used in analytical balances and other weighing instruments that measure minute samples.
2. Load Cell Type Industrial Scales
A load cell type industrial scale is composed of a strain gauge that detects the distortion of a strain element, which is distorted by the weight of a sample. One side of the body is fixed, and a sample is placed on the other side. The strain generated by the weight of the sample is extracted by the strain gauge as a resistance value and converted to weight. The structure is relatively simple and inexpensive. It is suitable for measuring heavy objects for which accuracy requirements are not so high.
3. Tuning Fork Industrial Scale
The frequency of oscillation of a sample is measured by applying a load to a transducer consisting of two tuning forks connected together, and the result is converted into weight. This is a relatively new measuring principle, and its measurement accuracy is somewhere between that of the electromagnetic and load cell types.
*Including some distributors, etc.
*Including some distributors, etc.